It's all about having some fun! Find out how you can participate here.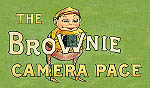 ---
home - list of brownie cameras - Brownie Hawkeye - Brownie Hawkeye Flash Model - Brownie Flash
Brownie Hawkeye
Brownie Hawkeye Flash Model
Brownie Flash Camera

Type: Box rollfilm
Introduced: May 1949
Discontinued: July 1961
Film size: 620
Picture size: 2 1/4 X 2 1/4"
Manufactured: US - Brownie Hawkeye & Brownie Hawkeye Flash Model
Manufactured: France - Brownie Flash Camera
Lens: Meniscus
Shutter: Rotary
Numbers made: ?
Original price: Hawkeye $5.50 Flash $7.00
Description:
The much loved Brownie Hawkeye cameras have a moulded bakelite body and use a brilliant viewfinder. May 1949-Nov 1951: This is the Brownie Hawkeye non-synchronised non-flash model. Sept 1950-July 1961: This is the Brownie Hawkeye Flash Model which is capable of accepting a wide range of Kodak pin and screw flash attachments. This same camera was also manufactured in France as Brownie Flash Camera.

Fun Facts:
The Brownie Hawkeye Flash Model Camera is recognized as one of the most popular Brownie cameras made. It is easy to use and is still extremely popular with film photographers because it's cheap to buy, it comes apart easily for lens and viewfinder cleaning, and most will accept 120 film without respooling it onto 620 spools making it even easier to shoot with. The big square negatives it produces are large enough for contact prints or can be enlarged for spectacular sharp prints. The bulb setting for time exposures rounds off this great camera.
This beautiful camera was designed by Arthur H. Crapsey, the designer of many other popular Kodak cameras.



Brownie Hawkeye
Flash Model




Brownie Hawkeye Camera