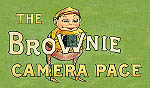 ---
No.2 Beau Brownie

Type: Box rollfilm
Introduced: Oct 1930
Discontinued: 1933
Film size: 120
Picture size: 2 1/4" X 3 1/4"
Manufactured: US
Lens: Doublet
Shutter: Rotary
Numbers made: ?
Original price: $4.25
Description:
This metal body camera is distinguished by it's 2-tone enamelled geometric Art Deco design front panel. It has 2 viewfinders along with a bulb(time) setting and a choice of 3 f/stops by using the pullout levers on top of the camera and above the lens. This unique and beautiful camera model has a leatherette covering color-matched to the front plate. It additionally has a tripod screw mount hole. The doublet lens allowed a shorter body than usual Brownie box cameras.

Variations:
The No.2 Beau Brownies were first released available in 5 colors: black, blue, green, rose and tan. Green and rose models were available only in 1930 and 1931.

Fun Facts:
These sought-after cameras were designed by Walter Dorwin Teague. It's Art-Deco design truly reflects the period it was released. Though it's a fairly basic box Brownie, it is a work of art.