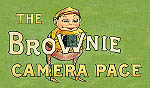 ---
No.2 Brownie

Type: Box rollfilm
Introduced: Oct 1901
Discontinued: 1935
Film size: 120
Picture size: 2 1/4 X 3 1/4"
Manufactured: US, Canada, and from 1928-1935 in the UK
Lens: Meniscus
Shutter: Rotary
Numbers made: over 2,500,000 before 1921
Original price: $2.00 - Aluminum model F $2.75 - Color models $2.50
Description:
The No.2 Brownie is significant in that it was the first camera to use 120 roll film. It started production being made of leatherette covered card and, from 1924, changed to a metal box. A very simple camera with a very dependable shutter shutter. It has two sliding mechanisms on the top, one for a bulb, or time setting, and the other for a choice of 3 apertures. It also has two small reflecting finders for vertical or horizontal shots.
Variations:
1901-early 1902: detachable winding keys similar
to The Brownie camera
Early 1902: fixed pull-out winding key
Feb 1904: Model B; fine grain leatherette covering replaced by coarser grain; metal eyelets fitted to lens and finder windows
Apr 1907: Model C; spoolcenters fitted
Dec 1914: Model D; during the run of this model the sliding latch for hinged back was replaced by a spring catch; mask in back ommitted
June 1917: Film tension springs bearing on spools ends instead of center
Dec 1917: metal name plate on back
Mar 1919: Model E; metal film carrier instead of wood, card outer casting
Mar 1920: Trigger guard fitted
Feb 1924: Model F; aluminum case replaced card; tripod sockets added; no trigger guard; finer grain leatherette covering
Apr 1929-1933: US models in five color finishes - Red, grey, green, blue, brown - as well as black
1929-1933: UK models in six color finishes - Red, grey, green, blue, brown, claret - as well as black
Nov 1930: UK model in special Modernist finish, black with slight relief, wax-like feel; made only in limited numbers for the Christmas season.(See No.2 Portrait Brownie Camera)
From 1931: knob replaced winding key; 1931 models had rectangular line decoration of earlier models; thereafter plain finish
1934-1935: UK models in two color finishes - grey or black. Silver model produced for Silver Jubilee of King George V in 1935.
Fun Facts:
The No.2 Brownie was a fantastic addition to the Brownie line, they just don't seem to stop working. It's still very easy to find film and though it is a very simple camera, the ability to choose an aperture is a big plus. These come in quite a few variations but never changed the primary look or function of this successful camera.