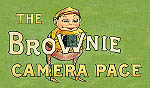 ---
Brownie 127, Third Model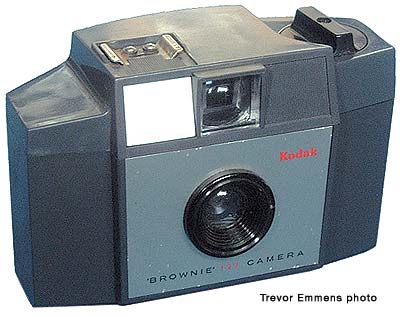 Type: Solid body eyelevel rollfilm
Introduced: Nov 1965
Discontinued: Nov 1967
Film size: 127
Picture size: 1 5/8 X 1 5/8"
Manufactured: UK
Lens: Plastic f/14 50.6mm
Shutter: Single speed 1/40 sec
Numbers made: Over 1,000,000
Original price: ?
Description:
This camera was completely restyled from the two earlier Brownie 127 models with a more angular plastic moulded body. It kept the optical direct vision finder but enclosed it more into the camera to help accommodate the hot shoe for use with an Instamatic flasholder. It also featured a handy film wind-on reminder and double exposure prevention.

Fun Facts:
The only thing that this camera has in common with the Brownie 127 and Brownie 127, Second Model is the name and film size.

Quite often, Kodak used a naming protocol that seems to make no sense and only adds to confusion when putting a Kodak camera history together. Their own internal documents concerning numbers of cameras made, dates of manufacture, and even list prices are missing for some early models. Though, it does make researching fun!
There are also two other "Brownie 127" cameras. One is the first Brownie 127 manufactured from 1952-1959 and the other is the Brownie 127, Second Model manufactured from 1959-1963.