by Chuck Baker
I love this time of year. The days are getting longer, the air is fresher, and winter is over! I enjoy the signs of warmer weather coming like the first trees budding and crocus blooming and that Worldwide Pinhole Photography Day is about ready to happen.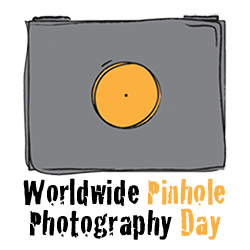 I have been taking pinhole images since I was a boy and am still amazed at the simplicity of the process and grateful for what it has taught me about photography. Imaging isn't always about the most in-focus or perfectly exposed print. Simple equipment can free us up from the technical, so that seeing becomes paramount, helping our overall view of the world.
My arsenal of film, paper and digital pinhole cameras get used regularly but shooting on WWPD is special. I get excited like a kid getting an ice cream or going to the carnival. When the day begins I almost can't wait to post my image on the website and see what others have posted.  Many are absolutely breathtaking and all show the photographer's effort and excitement!
Join the fun! There are many online tutorials about making a pinhole camera and sources for cameras already made for purchase.
The folks behind Worldwide Pinhole Photography Day are the nicest people you'd ever want to meet. Actually, I've never met a pinholer that I didn't like! They say: "Anyone, anywhere in the world, who makes a pinhole photograph on the last Sunday in April, can scan it and upload it to this website where it will become part of the annual Worldwide Pinhole Photography Day celebration's online gallery." How cool is that!!!
I'm already excited to see what you post!