by Chuck Baker
If you're reading this chances are you've found a great camera and just found out that it uses "obsolete" 620 film. All is not lost! 120 and 620 film is exactly the same size, and because of that, you can easily respool any available 120 film onto a 620 spool and use your 620 camera…without it jamming….and saving yourself alot of money!
I realize that there are many sources that state "just file down the spool and it will fit" and "you can get 120 film through some 620 cameras". These statements are somewhat true however the only real way to make sure your camera is not going to jam because of an incorrect spool being used is by properly respooling. But for me, this isn't my only reason to promote respooling.
When someone who just got their camera, possibly disappointed to find out that the film is not available, finds a "120 will work just fine" suggestion…the roll jams, it turns into a mess, and that person loses interest in film photography before they even start.
Additionally, for those of us who shoot a lot of film, there's a satisfaction and closeness that is attached with recreating what the camera was designed to use. It makes me feel more in tune with the equipment and with the images being captured.
But I think just as important, it is what the camera was designed to use and when using respooled film, my attention is focused on image taking and not on jammed film, or the possibility of jamming.
Below you'll find a video and images with instructions.
*Here is available respooled film and empty 620 spools from the Film Photography Project.
NOTE: You must have two 620 spools…one for the film and one for the take-up spool in the camera.
After you've done this a few times I think you'll find it a fairly easy technique to master.
Before You Start:
MAKE SURE YOUR HANDS ARE CLEAN AND DRY!
ALL RESPOOLING MUST BE DONE IN ABSOLUTE DARKNESS!
NO LIGHT OF ANY KIND!
BEFORE TURNING OFF THE LIGHTS HAVE YOUR 620 SPOOL HANDY!
FILM CHANGING BAGS ARE A GREAT WAY TO DO THIS!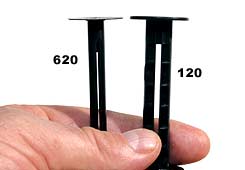 Here are the 2 spools you'll be working with….notice the differences.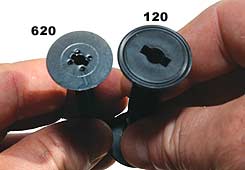 Although different, a 620 spool will accept 120 film exactly and without light leaks.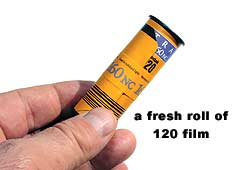 Start with a fresh roll of 120 film. I'm using color film here but you can use any type 120 film.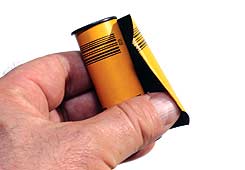 Tear and remove the paper ring holding the film tight on the 120 spool. Don't let it unroll.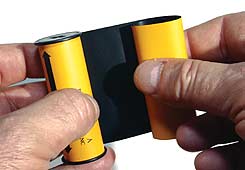 LIGHTS OUT!. Start unrolling from the spool making a loose roll in your other hand.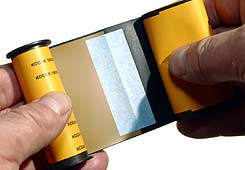 This illustrates that the film is taped to the paper. This will be important later. Continue unrolling.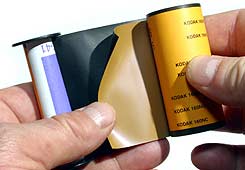 Towards the end of unrolling you'll feel the film end which is not taped. Continue unrolling.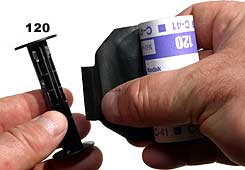 You've reached the end of unrolling. Notice the tapered paper end. Discard the 120 spool.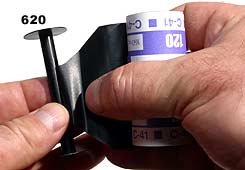 Pick up your 620 spool and thread the tapered paper thru the "wider" slot end.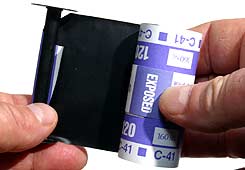 Start rolling the paper on, and lined up, to the spool while keeping it as tight as possible.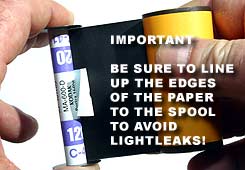 The edges of the paper must roll on even with the spool ends. Roll the paper fairly tight.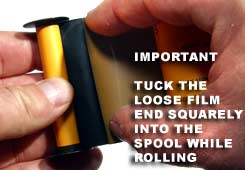 Tuck the loose film end into the spool and continue rolling as tight as possible.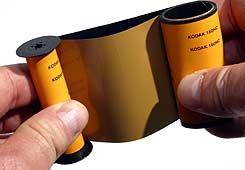 You'll notice as you roll the film and paper tightly on that the film will bulge. This is normal.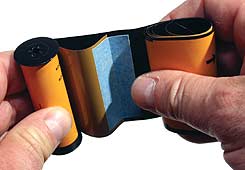 Keep rolling…keep rolling…keep rolling and stop when you reach the taped film end.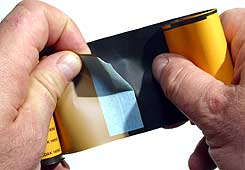 To get rid of the film bulge carefully pull up the tape while keeping it attached to the film.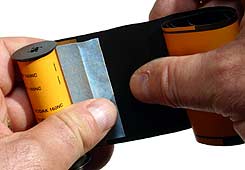 Continue rolling until the bulge is gone and re-attach the tape to the paper.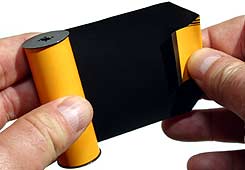 Keep rolling…keep rolling…keep rolling and you'll soon be at the end of the paper.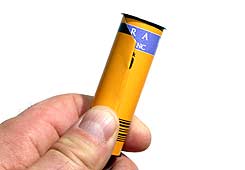 LIGHTS ON! You now have a roll of 620 film but you're not quite done…it still can unravel!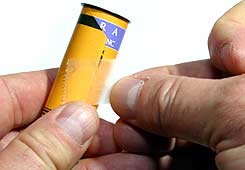 Putting on a piece of tape to hold the end tight will prevent it from unraveling.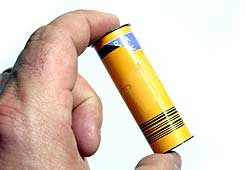 CONGRATULATIONS! Now you can use any 620 camera without jamming!!!.
You'll find that when using this respooled film in any 620 camera, no matter what the negative size format is, the numbers will appear correctly thru the little red window on the back of your camera.