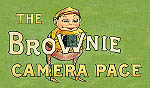 Brownie Cameras For Sale Right Now on eBay.ca....Canada!
You can bid on a camera right from here or find out what
others are selling their Brownies for.

If you're not a registered eBay.ca member yet just
CLICK HERE TO REGISTER ON eBay.ca
and then place your bid or start selling....it's free, easy and secure!


---